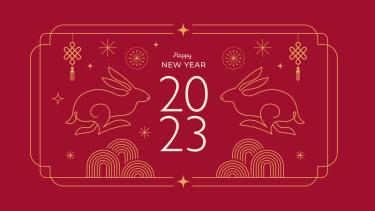 Abbotsford Schools Celebrate the 2023 Lunar New Year
January 30, 2023
Schools across the Abbotsford School District recognized the arrival of spring and the beginning of a new year as part of the lunisolar calendar. Chinese, Korean, Vietnamese, and other East and Southeast Asian communities in Canada and worldwide were celebrating the beginning of the Lunar New Year, the Year of the Rabbit (or Cat in Vietnamese culture) which was officially recognized on January 22nd, 2023.
During the week leading up to the Lunar New Year and that following, classrooms and schools across the district participated in lesson plans, activities and projects focused on Asian cultures to highlight and better understand the significance of the Lunar New Year.
At Mathxwí Elementary, students in Miss Sohl's class learned about her family traditions and celebrations for Lunar New Year. A group of students at Eugene Reimer Middle organized various activities to teach students about Lunar New Year. As well, many resources were also made available in each of our school's learning commons, representing the richness of traditions and celebrations across cultures. 
What is Lunar New Year, and why is this the Year of the Rabbit?
Lunar New Year, referred to in China as nongli xinnian 農曆新年 – meaning 'agricultural calendar New Year' or 'farmers' calendar New Year' – is believed to have originated in ancient China around 3500 years ago. As one of the most important holidays in Chinese culture, it marks the end of winter and the beginning of the new year (based on the Chinese lunisolar calendar). While the celebration of the Lunar New Year originated in China, it is now a holiday celebrated by many other cultures in East Asia, including Korea, Singapore and Vietnam.
The Chinese zodiac, which is a traditional classification system based on the lunar calendar, assigns an animal for each year in a 12-year rotation cycle. The cycle always begins with the Year of the Rat and ends with the Year of the Pig, seeing other animals in between - Ox, Tiger, Rabbit, Dragon, Snake, Horse, Goat, Monkey, Rooster and Dog.
The Year of the Rabbit is the fourth year in the cycle. According to the Chinese zodiac, it is believed that the rabbit is the luckiest of the animals in the 12-year rotation, in which we can expect a year of bring prosperity, hope and calm.
Wishing you all a happy, healthy and safe Lunar New Year!