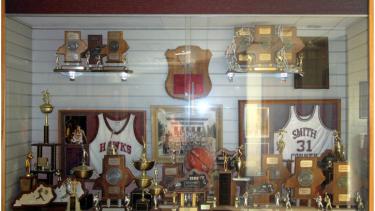 W. J. Mouat's athletic history started in 1973 when the school first opened. The school population was extremely small, consisting of 150 students in only two grades, 9 and 10.
Both the staff and students were very enthusiastic and aggressive in developing an athletic identity. As a result of this enthusiasm, the school fielded 12 teams. The original Fall sports were: Speed Swimming and Girl's Grass Hockey. The Winter sports were: Basketball (B/G 8 & 9), Gymnastics and Badminton. The Spring sports were Track & Field (8 & 9), Boy's Rugby and Tennis.
The original sports teams were developmental as the school had no prior identity. Both the coaches and athletes quickly grew in knowledge and expertise. The other schools in the area quickly found out that WJM was not an easy opponent.
As the years progressed and the school grew in size, the number of sports also grew. The existing sports expanded to include Senior, Junior and Grade 8 divisions. New Teams were developed in: Boy's Ice Hockey, Girl's and Boy's Volleyball, Boy's and Girl's Soccer, Bowling, Cross Country Running, Wrestling, Girl's Ringette, Golf, Ping Pong, Synchronized Swimming, Diving, Girl's Rugby and Football.
Over the school's illustrious history, the school has won numerous B C Championship banners for Football, Basketball, Speed Swimming, Synchronized Swimming and Wrestling. In 1976 the school's first BC Championship banner was won by the Girl's Bowling Team. Individually the school's athletes have won vast amounts of medals at all levels of competition, including Provincial, National and International competitions.
W. J. Mouat's athletic focus continues to remain strong. The combination of strong coaching and determined athletes has resulted in Mouat having a reputation that is recognized and respected throughout the province.