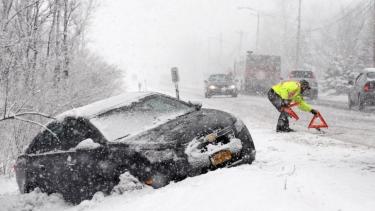 During the late fall and winter months, weather conditions might cause a school or schools to shut down. The Superintendent of Schools has authority, on behalf of the Board, to temporarily close a school or schools. This decision is made in consultation with management and supervisory staff who have checked first-hand on the driving conditions, walking/sidewalk conditions, and general condition of buildings and accessibility to sites. A number of factors go into a school closure decision, including: student and staff safety, the conditions of roads near schools, school grounds, school bus routes, and whether facilities are fully operational.
Any district-wide or partial-district closures will be decided and communicated by 6:30 A.M. In the event that there is winter weather but schools remain open, it is the parent's decision, based on their assessment of the relative safety of travel conditions, as to whether or not their children attend school. 
Details and official announcements/updates are always distributed via the below platforms; please connect with us online.
District/School Websites  - https://www.abbyschools.ca/
Our "Abby Schools" app, available for download from the iTunes Store or Google Play; and
Twitter (@AbbotsfordSD), Facebook (@AbbotsfordSD) and Instagram (@AbbotsfordSD)