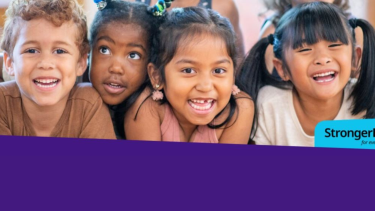 B.C. launches anti-racism action plan for K-12 students
January 25, 2023
(Victoria, Ministry of Education and Child Care) - Empowering students and educators to identify and take action against racism and discrimination in British Columbia schools is the aim of a new provincial K-12 Anti-Racism Action Plan launched on Monday, Jan. 23, 2023.
"We know that Indigenous, Black and people of colour may face inequity within the education system," said Rachna Singh, Minister of Education and Child Care. "This action plan is a critical step forward for students, educators, staff and families as we all work to create school communities that feel welcoming and supportive for people of all backgrounds."
The action plan will create change in B.C. schools by raising awareness and creating resources to improve the school experience for racialized students, staff and families so that everyone feels a strong sense of belonging. To facilitate this work, the Ministry of Education and Child Care will provide new training opportunities for all school staff to help them better understand their role in fostering anti-racist school environments. The action plan will also empower students and staff to identify biases and address acts of racism or discrimination with new incident-response guidelines.
"For generations, Indigenous, Black and people of colour have worked to fit into a system that wasn't necessarily built for them," said Mable Elmore, Parliamentary Secretary for Anti-Racism Initiatives. "The K-12 Anti-Racism Action Plan will help students and educators alike learn how to build more inclusive and equitable learning environments, so more students have equal opportunities to succeed. This action plan is an important part of our work to decolonize our institutions and build a better B.C. for everyone."
The action plan will support school districts in their commitment to anti-racism initiatives in their school communities. Partnerships and sharing resources are key elements for school districts to learn from and support each other. In Kamloops-Thompson School District (SD73), for example, more than 100 students of diverse backgrounds are working with district staff to share their experiences and ideas to help develop a district-wide anti-racism plan.
"As a board of education, we are immensely honoured and grateful to learn from the lived perspectives of students who experience racism," said Heather Grieve, board chair, Kamloops-Thompson School District. "It is only through their words that we can develop truly authentic action plans for inclusive, safe communities in our district."
Surrey School District (SD36) is another school district working on anti-racism initiatives. In spring 2021, SD36 held listening circles across the district for school communities to gather and share their experiences with racism. This helped to identify gaps between the district's values to be inclusive and the lived school experiences of the community will help guide the district as it works to address racial inequality in its schools.
"As a school district, we are committed to learning, growth and continuous improvement," said Laurie Larsen, chair, Surrey Board of Education. "Our district has clear policies on creating safe and caring environments for our staff and students. But we also recognize that there is more work needed. Over the coming months, we'll be sharing a five-year plan that outlines how our district will begin to strategically address racial equity to ensure that every student in our district receives a high-quality, culturally sustaining and socially just education."
This action plan was developed through discussions over three years with students, rightsholders and Indigenous partners, education partners, educators and staff, as well as community organizations. Future anti-racism work by the Ministry of Education and Child Care will continue to incorporate feedback from the education sector and those with lived experiences of racism.
All school districts and independent schools are required to have codes of conduct and policies to address racism and discrimination. In addition, students and families now have access to more anti-racism resources on the Erase website.
The K-12 Anti-Racism Action Plan is part of government's commitment to dismantle systemic racism and build a better, more inclusive province for everyone.