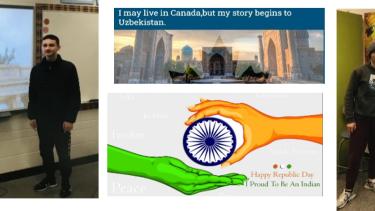 News from the Nest - Feb. 21-25
February 17, 2023
Spotlight on Learning:   Deeper Learning In ELL
Six years ago, a student walked in the class wearing a shirt that said, "I may live in Canada, but my story begins in Mexico." That shirt inspired a poster which hangs in the ELL room and is used as an invitation for students to share their culture, their experiences, and their journey to Canada. During the deeper learning weeks, emergent ELL students created 'ignite' presentations: 20 visual slides, 15 seconds per slide, amazing stories. The final reflective piece was: ask not, 'is this a good story?'- but, 'what is this story good for?'
The Literary Studies 10 ELL class completed passion projects where they were encouraged to explore and visually present literature from their ethnic backgrounds, recognizing and highlighting important themes
Welcome to our 20 new international students!
These adventurous people from Japan, Italy, Mexico, and Brazil are already spreading their enthusiasm and quest for fun experiences. Next week, many of them are heading off to Manning Park with Mouat's outdoor education program to enjoy a day of skiing, snowboarding, and meeting other high school students from across the district.
Also, a warm welcome to Mouat's newest Hawks – newcomers from Afghanistan, Ghana, Lebanon, India, and Argentina. Each one of them enriches us with their hope, resilience, stories, and courage. We now have 97 ministry designated ELL students. The view from room 315 continues to grow!
Character Word of the Week – Caring
Acting from the virtue of caring involves eight features, which include not only that of being sensitive to, and concerned about but also that of being aware of, and sensitive to, the concept of care. In this way, caring is seen as an overarching quality that gives action its moral character.
Congratulations Wrestlers
Congrats to each of our Wrestlers who contributed points on our way to winning the Eastern Valley Championships in both Sr. Girls and Sr. Boys division with 9 Golds, 8 Silver and 4 Bronze – all these individuals qualified for Provincials. In addition, we had great results two weekends ago at the Port Alberni Invitational Tournament. As you can see we have some very good athlese and expect that they will do well at the BC's. .  Much time and effort was put in by all and importantly, our coaches Mr. Mitchell and Mr. Fung.  Huge shout out the Mr. Mitchell whose dedication to our students and to making Mouat a central location for all Wrestlers in the district has created opportunities for our student-athletes to excel.
Port Alberni Invitational Tournament
Paradise Johnson 3rd
Gurnoor Sidhu 3rd
Jadan Deol 1st
Talon Trolland 2nd
Kentario Dennis 3rd
Michealjeet Grewal 1st
Tejvir Dhinsa 1st
Manraj Randhawa 3rd
Gurjot Sahota 1st
Eastern Valley Championships
Gold

Liam Wright
Gavin Wright
Natan Thiel
Sarah Thiel
Paradise Johnson
Omrad Dhadda
Tejvir Dhinsa

Silver

Nethanya Rodgers
Ellin Paw
Jagnoor Mann
Deepanjal Sharma
Pheonix Trolland
Kentario Dennis
Marja Randhawa

Bronze

Lakin Trolland
Mateo Coleman
Karan Grewal
Chanpreet Niggar
Black History Month
On Monday, we ran a full school assembly as part of Black History Month.  Dr. Kevin Godden spoke with our  students on his experience as a first generation immigrant family moving from Jamaica to Vancouver, his lived experience as a person of colour through school and sport and the impact that individuals (mom, dad, teachers, coaches, etc.) can have on our personal journey.  Dr. Godden waive his achievements in track and field into the story of Tommie Smith and John Carlos at the 1968 Olympics and the supporting role of Peter Norman.
School Spirit
Over the past few months, we have had the pleasure of a return to high school sports with a full volleyball, wrestling and basketball schedule.  Our students have done an amazing job supporting their athlete peers and being respectful sport fans.  This week our Sr. Boys closed out their season with wins against three tough competitors and our students cheered their efforts with much applause, a little drumming and some "ahh" moments.  Thursday's game against Abby Sr. saw a full capacity gym with a final score of 80-61 for Mouat.
PAC Meeting and Thank You
Reminder of our PAC Meeting this Tuesday at 7pm via Zoom which is a bit of pattern change due to Joint Partners engagement next Monday.  Here is the details:
Tuesday, February 21, 2023 at 7pm via Zoom  (link in seperate email sent to parents)
AND a huge and yummy thank you to the many parents who contributed towards the Staff Appreciation Luncheon on Wednesday and those  who set up, organized, and hosted the staff including some much coveted door prizes.
Self-Care Monday 
FEBRUARY: THE BENEFITS OF BRAIN BREAKS 
Taking brain breaks is very important for positive mental health and improving focus. Brain breaks allow you to revitalize your mind and unblock regions in your brain that aren't functioning correctly due to stress and high-intensity work.  Breaking away from a tedious routine of work for even just 5 minutes can revitalize and recharge you and help improve your performance in school, at work and even as an athlete.  
This week's self-care tip is about: Brain boosting hand exercises 
After 20 minutes of being seated, the brain's ability to focus decreases. By using a brain break, we can encourage the brain to become more engaged by using small bouts of mind/body challenges. Brain breaks have been proven to improve cognitive skills, increase brain activity and encourage social and emotional growth. So, on that note, try a brain boosting hand exercise activity today! 
Information: 
https://extension.sdstate.edu/brain-breaks-classroom 
Activity: Hand coordination 
https://www.youtube.com/watch?v=DJt6ORwxKmE 
Calendar 
Monday, February 20
Tuesday, February 21

CDBA
Diversity Week –  Celebration of Pride WEAR THE RAINBOW
Block D Gr 11 YDI Survey
Block A – Gr 9 and 10 Don't be a Bystander Assembly
PAC Meeting

Wednesday, February 22

BADC
Diversity Week - Pink Shirt Day
Grad Photo Retakes
Character Council
Block D Gr 11 YDI Survey
Thrive Leadership Mtg.
Secondary PVP Student Voice
Sr. Boys EVAA Playoffs

Thursday, February 23

DCAB
Diversity Week – Celebration of Neuro-Diversity – WEAR PURPLE, BLUE OR RED
Art Showcase LC
Grad Photo Retakes
Block D Gr 11 YDI Survey
Sr. Boys EVAA Playoffs

Friday, February 24

CDBA
Tutorial Time
Diversity Week – Celebration of Cultural Diversity – WEAR YOUR CULTURAL ATTIRE
Art Showcase LC
Sr. Boys EVAA Playoffs