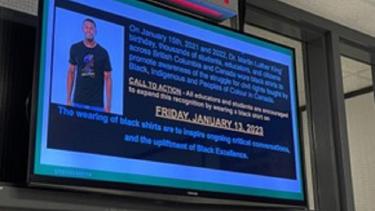 News from the Nest - Jan. 30-Feb3
January 27, 2023
Spotlight on Learning:  Social Justice 12 Black Excellence Day
Standing in solidarity with Black Excellence Day, held on Friday, January 13, 2023, Ms. Esau's Social Justice 12 classes organized a series of events for Mouat.  Black Excellence Day honours the rich history, art, and stories of Black Canadians and coincides with the American national commemoration of Dr. Martin Luther King Jr.'s birthday.  At Mouat, Ms. Esau's classes organized a school wide initiative of wearing of black shirts, presented a Kahoot, and hosted in the Library Learning Commons a viewing of a virtual event put on by the Ninandotoo Society and the Burnaby School District.  This presentation featured prominent Black Canadians such as a former member of the B.C. Lions football team, a representative from the N.B.A., motivational speakers, historians speaking about Black history in British Columbia, including raising awareness about topics like Vancouver's Hogan's Alley, as well as high school students from around the province.  All of the presenters spoke passionately on a diverse selection of topics important to Black Canadians in particular, and, of course, all Canadians more broadly.  Ms. Esau's students also created posters advertising a presentation by journalist and author Harrison Mooney, who wrote Invisible Boy.  This event, held at Yale Secondary on January 17, was hosted by Abbotsford's Black Connections organization.  Mouat was proud to support such a worthy and affirming cause – nice work Social Justice 12!
Affordability Fund
Families/ students who are in need a support – we can help cover costs associated with school fees, clothing, school supplies and transportation – email linda.pollastretti@abbyschools.ca
Have you moved, or changed phone numbers or email addresses?
Do we have accurate demographic (student) information?  If you have moved or changed address, changed or updated cellphone or home phone numbers, changed your email address or had an update in custodial or court orders please email sherri.draayers@abbyschools.ca
Report Cards
 Report cards will be available on February 9, 2023, at 3pm. Teachers will be updating and posting into MyEd. Marks posted are not complete until the 9th.  Parents you will notice a couple of changes in how we (the school) are reporting information to you. One or more of your child's course will have comments that contain the following information:  what curricular competencies (skills) were assessed in the course, what was the focus, a comment on your child's strength and growth area in that course, and where you can find their (your child's) self-assessment (also called a self-reflection) of the core competencies (skills that are foundational to all courses).  A new reporting order has been announced and Mouat is pleased to be a leader as teachers' implement the revised requirements.  
Character Word of the Week – Integrity
Integrity is standing up for what you believe is right. It is being honest, and sincere with others and yourself. You are integrous when your words and actions match.
What would integrity look like if . . .
All your friends are going to the movie and you are not invited . . .
You promise to keep a secret and then share it with others . . .
The teacher steps outside the classroom on exam day . . .
Someone copies your assignment and submits it . . .
You agree to help around the house and then do not . . .
Self-Care Mondays 
This week's self-care tip is about: STRETCHING FOR A BRAIN BREAKS 
A brain break is an opportunity to recharge before continuing with new learning. It permits you to refresh and rejuvenate so that your focus improves as you continue with an existing task or take on a new task.  So, after that 30-minute intense lesson on "whatever", taking a short brain break can help you be ready for whatever may be coming next. Whether it be a game or some stretching, take a brain break today! 
https://www.educationworld.com/teachers/giving-students-brain-breaks-can-help-their-mental-health 
Activity: Brain break- stretch 
https://www.youtube.com/watch?v=0L3W0pcHU50
Student Safety at Drop Off
A quick reminder to parents, please DO NOT drop your child off on Tretheway.  For example, stopping at the curb and letting them out.  Student safety is more important than a few seconds or minutes.  Thanks for keeping our students safe.
Un-Birthday Celebration
Thrive celebrated UNBIRTHDAY this past Thursday with over 60 students in attendance. This annual event is an opportunity to celebrate everyone's birthday and was well received with students enjoying comradery and all sorts of delicious treat.
Calendar
Monday, January 30

CCDD
Self-Care Monday
Jr. Girls BBall @ SJB
Sr. Boys BBall @ Mission

Tuesday, January 31

BBAA
Gr 9 Boys BBall vs Dasmesh
Sr. Girls BBall vs GW Graham
Sr. Boys BBall vs GW Graham

Wednesday, February 1

DDCC
Sr, Girls BBall vs Chilliwack
Sr. Boys BBall vs Chilliwack

Thursday, February 2

ABCD
Sr. Girls BBall
Dry Grad Parent Meeting

Friday, February 3

No School for Students
Turn Around Day