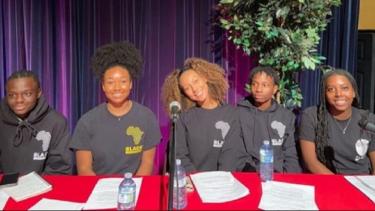 News from the Nest - Jan23-27
January 20, 2023
Spotlight on Learning:  An Evening with Purpose
This past Tuesday, the Black Connections Club from Yale hosted a district-wide event with author, Harrison Mooney, and a student-led panel discussion.  With music pumping from DJ Fly, and some delicious bites from locally owned Cool Runnings Bistro in Matsqui Village, the evening was both intimate and powerful.
The sold-out event, saw students, parents, educators, grandparents, and our mayor settle in for an intimate evening that asked all those in the audience to open their minds, and hearts, to hear the stories of our youth past and present. 
Harrison Mooney, author of the book "Invisible Boy" opened the evening with an interview from host, Shayla Bird, a Yale grad, and Abbotsford School district teacher.  Harrison is a writer and journalist who was born to a West African immigrant mother and was adopted as an infant by a white family here in Abbotsford.  He worked for the Vancouver Sun for nearly a decade as a reporter, editor, and columnist and his writing can be found in the National Post, the Guardian, Yahoo, and Macleans.
The powerful memoir inside the pages of "Invisible Boy" describes his journey as a Black child whose search for connection, belonging, and identity, leads him to realize, his own internalized anti-Blackness, while longing for and eventually reconnecting with his biological mother. 
After the intermission, and those delicious bites from Cool Running Bistro, we listened to the stories and experiences of some of the members of the Black Connections students.  We learned about how the club started, what the space, community, and connection mean to the students, as well as what it has given them.  We heard about the first and most recent times they experienced racism in schools and their community.  They described their hopes for the future of the group and their own futures.  They asked that we continue to make space, hold space, and actively pursue an education system that is more inclusive of what we read, what we do, what we celebrate, and what we value. 
An enormous thank you to the Black Connections students for their bravery and for their willingness to open their doors so that we can walk forward together with hope, action, and inspiration.
Affordability Fund
Families/ students who are in need a support – we can help cover costs associated with school fees, clothing, school supplies and transportation – email linda.pollastretti@abbyschools.ca
Abbotsford Pro-Cook Dinner
On Thursday, January 19 a number of WJ Mouat staff and students were able to taste and celebrate the professional cooking experience at part of student learning opportunities within the District Professional Cook Training program.   From Lisa (pictured) who served up deconstructed cheesecake and Gnocchi with Alfredo and Bacon, to Jordan who cooked up mini-quiche and Neapolitan themed Crème Brule and Kaitlyn who delighted with Butternut Squash and Parmesan Wonton.  Participants in the evening wandered and chatted from station to station.  The evening was a food-lovers delight.
Self-Care Monday – January 23
This week's self-care tip is about: Meditation and Finding your Happy Place 
Thinking about and visualizing a place where you feel happy and safe can have tremendous benefits to your health. It can be an imagined or real place. Doing this can help you to reduce stress and can help improve your performance. So, before that next job interview, sports game or exam, think about your happy place and focus on all the details such as sounds/smells/people/sensations that make it happy. You will feel an immediate calmness. Try it! 
 https://www.psychologytoday.com/intl/blog/presence-mind/202209/your-happy-place 
https://www.youtube.com/watch?v=Aw71zanwMnY 
Happy Place Meditation link: 
https://www.youtube.com/watch?v=WlhneFCTD6o 
Literacy Assessment Schedule
Students in Gr 10 English classes (Literature, Composition, New Media and/ or First Peoples' are required to take the Literacy 10 assessment. Student in Semester 1, FRAL 12 also have an assessment.  These assessments are required for graduation. See schedule below.
Character Word of the Week – Teamwork
Students demonstrate the ability and willingness to pursue common goals as part of a team, constructively participate in cooperative learning, and communicate effectively in cross-cultural and multi-lingual settings (i.e., with people who have diverse styles, views, and backgrounds). 
Key Beliefs:
I will be a better student if I act on the following beliefs:
Working productively with others, as being part of a team or group, will allow me to accomplish more than I could alone.
I should work effectively and respectfully with diverse teams.
I have to exercise flexibility and willingness to be helpful in making necessary compromises to accomplish a common goal.
I need to assume shared responsibility for collaborative work and value the individual contributions made by each team member.
Grad 2023
Have you purchased your Night to Remember ticket – cut off is February 1st. 

Tickets purchased after January 20 will not receive a SWAG bag (due to order timelines on custom merch)

Grads – check your email (learn34) for your grad photo proofs – deadline is January 31 and retakes are fast approaching (book online)
Please complete your cap and gown order
Yearbooks
Yearbooks are online (via SchoolCashOnline) until January 31 for $45. February 1st the price increases. 
Next Week's Schedule
As a reminder, next week our schedule is altered to allow for longer blocks or chunks of time.  All students should be at school all day.  We end school a little earlier due to the removal of 2 transition times (block switches).
Calendar
Monday, January 23

AABB
Literacy Assessments
Self-Care Monday Meditation
Gr 9 Boys BBall
Jr. Girls BBall vs Hansen
Jr. Boys BBall at Hansen

Tuesday, January 24

CCDD
Literacy Assessments
Jr. Boys BBall
Sr. Girls BBall
Sr. Boys BBall @ RE Mountain

Wednesday, January 25

BBAA
Literacy Assessments
Words of Encouragement Day
Thrive Leadership Meeting
Sr. Boys BBall vs Sardis

Thursday, January 26

DDCC
Literacy Assessments
Jr. Boys BBall vs Mission
Jr. Girls BBall vs MEI
Sr. Girls BBall GW Graham Tournament

Friday, January 27

AABB
Literacy Assessment
Sr.  Girls BBall GW Graham Tournament
Jr. Boys BBall Holy Cross Tournament