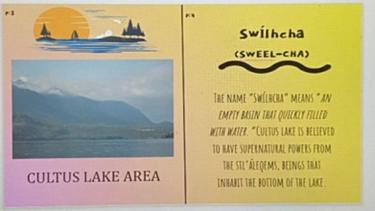 News from the Nest - January 9-13
January 6, 2023
Spotlight on Learning:  English First Peoples 10 and 12
Both English First Peoples 10 and 12 students completed a First Nations Children's Book Project.  This project involved several steps to ensure the students' final projects were finished with respect, understanding, and appreciation of a variety of First Nations topics.  First, Sam from Thrive visited both classes to help them get started and students shared their book ideas with her and received helpful feedback.  Then, prior to students beginning, they completed a book tasting of First Nations picture books.  Students were then directed to reliable First Nations websites (thanks to Janelle aka Mrs. Dyck!) to ensure the information they collected for their books was accurate. 
The result consisted of student-made books focusing on Land Acknowledgements, a Halq'eméylem language book for kids, a Bannock recipe book, a book of poems, a book of local lakes and mountains in Halq'eméylem, as well as narratives that discuss being proud of one's culture.  Mrs. Coan was very impressed with the attention to detail and collaboration that went into crafting their books.  Students not only completed something with creativity (either making a hard-copy book or a digital book using Book Creator), but they were able to explore a topic of interest and further increase their knowledge of First Nations topics. For example, one student commented on how they wanted to learn a First Nations' language, so this project helped them learn phrases and key vocabulary in the language of their choice.  This project also allowed for conversation around cultural appropriation and cultural misrepresentation, and how literature can be a vehicle for positive change, representation, and cultural appreciation.  Mrs. Coan is already excited to repeat this project again next semester! 
 JANUARY: DEEP BREATHING BENEFITS 
Every system in the body relies on oxygen. From cognition to digestion, effective breathing can not only provide you with a greater sense of mental clarity, it can also help you sleep better, digest food more efficiently, improve your body's immune response, and reduce stress levels. So this month, our focus will be on breathing activities. 
Self-Care Monday – January 9
This week's self-care tip is about:  Deep Breathing 
Deep breathing has several benefits to us. It helps to reduce our heart rate after exercise. It helps us digest our food. Deep breathing also helps to calm us and helps improve our focus. Practicing deep breathing can be of tremendous benefit just before writing a test to help sharpen our focus as well as to reduce some anxiety. Give it a try today! 
https://www.healthline.com/health/diaphragmatic-breathing 
https://www.verywellmind.com/the-benefits-of-deep-breathing-5208001 
Character Word of the Week – CARING
Kindness, like a boomerang, always returns."
Reflections for the Week:
What is kindness?  What are some ways you can show/ demonstrate kindness?
Why is kindness important?
Have you experienced a "kindness boomerang"?
Affordability Funds
The Ministry of Education and Child Care announced that it would be allocating $60 million in one-time funding to school districts to increase food security for students and their families, and to support students, parents, and guardians with affordability concerns during the 2022/23 school year. The Abbotsford School District has received $1.9 million in one-time funding to make the return to school more affordable for students and families. 
Do you require support with meals and food security, school supplies, school fees and/or school clothing? We can help.
Connect with your school Principal to inquire about access to the Affordability Fund. All inquires will be kept private and confidential.
Calendar
Monday, January 9

ABCD
Grad Photos in the LC Lab
Self-Care Monday –
Gr 9 Boys BBall at Abby Christian
Jr. Girls BBall at Yale
Jr. Boys BBall at home

Tuesday, January 10

CDBA
Grad Photos in LC Lab
Sr. Boys BBall @ Abby Sr.

Wednesday, January 11

BADC
Grad Photos in LC Lab
Gr 9 Boys BBall @ Hatzic
Jr. Boys BBall @ Home

Thursday, January 12

DCAB
Grad Photos in LC Lab
Sr. Girls BBall @ Mission
Jr. Boys BBall @ Home
Sr. Boys BBall @ Pitt Meadows Tournament

Friday, January 13

CDBA
Tutorial Time 8-9:30
Grad Photos in LC Lab
Jr. Girls BBall @ Timberwolves Classic Tournament
Sr. Boys BBall @ Pitt Meadows Tournament